The University Medical Center of the Johannes Gutenberg University Mainz
The University Medical Center of the Johannes Gutenberg University Mainz (Universitätmedizine Mainz), located in the center of the Mainz city in Germany, provides not only regular medical treatments, but also well-established medical education and researches.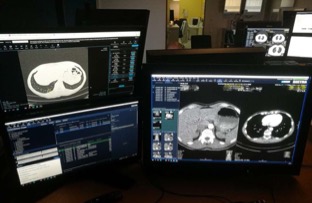 University Medical Center Mainz currently operates over 1,600 hospital beds and 4 Philips CT machines together with other cutting-edge medical examination devices. The radiology department has its independent IT division, which cooperates closely with Infervision. In addition, University Medical Center Mainz has rich experiences in organizing well-known conference, DICOM Meeting, which is one the most influential meetings in German radiology, for over 20 years,
In Europe, lung cancer is one of the most common and serious cancers like everywhere else in the world. More importantly, people with early-stage lung cancer have larger possibility of getting treated and even cured. Both NELSON and ITALUNG have tested screening for lung cancer by low-dose multi-detector computed tomography (CT) in high-risk subjects in Europe, and have found a decline in 10-year lung cancer mortality of at least 25% compared with a factor-controlled target group without screening. These two studies above demonstrated that, CT lung cancer screening is able to provide an opportunity for further risk stratifications of patients who undergo such examinations.
However, the screening program is not enforced in Europe due to the various reasons. The uncertainty about the definition of high-risk target group, the ethical discussion about who should pay for the screenings and the high costs involved in screening with CTs and radiologists are the hurdles that prevent the implementation of a potentially beneficial screening program.
Infervision's CT Lung has become the trend of future and it is able to help doctors practically detecting early stage lung cancer with a much higher productivity, thereby reducing the cost involved in screenings. University Medical Center Mainz agrees that Infervision's AI solutions will become very helpful and reliable after getting accustomed to hospital environment. In the future, AI will become an assist to doctors, and the use of AI will also help the development of medicine in various aspects in Germany and to a larger extent, Europe.
In October, Mainz Hospital has installed the solution, InferRead CT lung and has become one of the Infervision's most important partners in Europe.